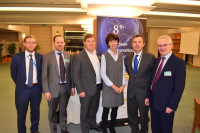 From left, Liam Morris (Permanent Representation of Ireland to the EU), Dr. Barry Quinn (Queens University Belfast), Ed Farrell (Irish League of Credit Unions), Hilary O'Sullivan (Irish League of Credit Union), MEP Brian Hayes (Ireland), and Pat Fay (Irish League of Credit Unions).
BRUSSELS, Belgium - The European Parliament Credit Union Interest Group met to discuss how regulatory burdens affect the economics of credit union operations at the European Parliament's Espace Leopold in Brussels, Belgium on Wednesday 16 November. The Interest Group is composed of Members of the European Parliament (MEPs) who are credit union supporters. European Parliament vice president Ryszard Czarnecki (Poland) and MEP Marian Harkin (Republic of Ireland) are the Co-Chairs of the Interest Group.
Keynote speakers at the event included Dr. Barry Quinn, Lecturer of Finance at Queen's Management School, Queen's University Belfast in Northern Ireland, and Michael Edwards, vice president and general counsel of the World Council of Credit Unions.